XTIA Xproto-ATX case V2
Regular price

$175.00 USD

Regular price

Sale price

$175.00 USD

Unit price

per
We have added a white version (2nd generation electrophoresis process). The large-size white electrophoresis took us a lot of time to practice, and finally met with you. We'll update the image recently

About Shipping, Cancel the order and return policy (June 2022 update) please check the link below 

https://xtia.design/blogs/%E6%96%B0%E9%97%BB/about-shipping
Adjustment of V2:
1:3.5 hard disk bracket modification can support enterprise hard disk

2:The appearance and installation method of the GPU bracket have been adjusted. Reduce the difficulty of installation and reduce the risk of damage.
3:Compared with V1, the height of the GPU over the shoulder is compatible with an increase of 6mm (the GPU installation position is lowered), the position of the GPU is 10mm away from the motherboard (to reduce the conflict with the memory), and the compatibility of the vertical mode GPU with three-slot graphics cards and top graphics cards such as 4090 is enhanced
4:The overall size has not changed
5:The new version of the installation instructions are being updated one after another
V2 tutorial:
https://xtia.design/blogs/%E6%96%B0%E8%81%9E/the-tutorial-of-sata-bracket-for-xproto-atx
1: Xproto-ATX comes with all brackets you need, there is no need to buy any additional module 

 2: 3.5 The mechanical hard disk and power supply share the installation position. If you need to install a 3.5-inch hard drive, please use a power supply with a length of less than 17CM(for one 3.5hdd)or less than 15cm( for 2 3.5hdd)    The number of hard drives that can be installed depends on the size of the power supply
Standard version:   Come with PCIe 3.0 riser cable  18CM single reverse(, can fit ATX/ITX/MATX/DTX mobo)
Advanced version:  Upgrade to JHH PCIe 4.0 riser cable 18CM single reverse,  ( There are differences from the video tutorial. The end of the riser cable (GPU side) needs to be folded back 180 degrees to use)  
The purpose of this adjustment is to allow an extension cable to be compatible with all motherboards.
All version comes with all brackets ( Including PCI-E riser bracket) 
 The latest version is modified:
1:Provide additional water pump bracket (need to use a power supply within 14*15CM)
2:Zone C (between AIO and motherboard) provides 1-2  2.5 SSD mounting positions, the original 2.5 SSD brackets is upgraded to two 3.5HDD brackets(The specific number of 3.5 hard drives that can be installed is determined by the length of the power supply)
https://xtia.design/blogs/%E6%96%B0%E8%81%9E/the-tutorial-of-sata-bracket-for-xproto-atx
3:The side AIObracket  can be installed behind the graphics card to solve the problem of inconsistency after the installation of an overly long graphics card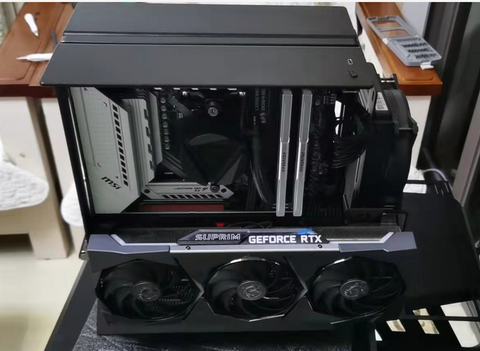 We have been thinking about how to use the SFF concept to design an ATX layout, to reduce the hardware requirements of the butterfly structure
Features
1:Compatible with ATX /MATX / ITX / DTX  motherboard
2:The smallest volume *(Need to use 240 water cooling)is less than 17L
3:Continuation of the XTIA butterfly structure 2.0 design
4:Comes with hidden handle design and all brackets( HDD brackets and side AIO bracket) 
5:All aluminum CNC machined (No steel parts) ,Total weight less than 2KG
6:  Handle/ All brackets in the images  are included,no need to buy extra
Compatible hardware

MoBo:            ATX/MATX/DTX      (Not compatible with EATX motherboard)
PSU:             All size ATX PSU.  SFX PSU needs SFX to ATX adapter
Storage:       Maximum 2.5*3 /3.5 *2 HDD/SSD   Related to PSU length +M.2  (Come with 3.5 HDD bracket) 
Water Cooling:      240 AIO(Recommend,Back,Side),   280AIO (Back,Side), 360AIO (Side),420AIO (Side)
                       Note:280 AIO installed behind the motherboard will protrude from the chassis
Warning: Some purchasers have reported that customs duties were charged. Depending on your country's import regulations, you may have to pay customs duties or a similar import tax. If you have special requirements to declare, please let us know in your order.
About Shipping, Cancel the order and return policy (June 2022 update) please check the link below 

https://xtia.design/blogs/%E6%96%B0%E9%97%BB/about-shipping
Share